Therainfalls. M110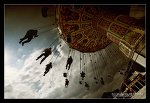 Joined: 18 Apr 2007
Posts: 84
Location: Edmonton, AB
Posted: Fri Jun 29, 2007 2:01 pm

Post subject: Death note conclusion. (spoilers)

---

I'm watching the last two episodes now..... I can't wait.
Anyone else a fan of the show? I think it's up there with fma.

Can't wait to see how it ends!

Edit: The ending was very different than the rest of the series. Instead of reaching a truly great climax like the show had so far done. It ended with yagami light limping away bleeding to death as ryuuk talked to him about all the good times they had before it was over.
The final shot is yagami lieing on a staircase dieing and as he has a heart attack you get a final shot of L standing off in the shadows as if waiting for him.

TOTALLY WICKED!
_________________
~I'm me.