Therainfalls. M110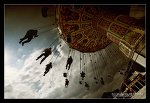 Joined: 18 Apr 2007
Posts: 84
Location: Edmonton, AB
Posted: Mon Nov 26, 2007 12:31 am

Post subject: Holiday poem: rough copy

---

Walking briskly through this dark Christmas night
snow swirling all around
like sparkling diamonds falling swiftly
and making not a sound

The world is sleeping 'cept for me
as I trek along this street
crystals glinting on the ground
as they smother the concrete

it's faint at first, but slowly grows
a long off bright orange dot
a solitary street lamp it seems
lights this city park

where I am god only knows
and the light it comforts me
I plow through snow, at least 3 feet deep
through icy, discarded debris

until at last I stand at this lonely square
four paths leading here, plain and bare
if not for the light, and the man on the bench
this place would hold noone there

What an odd looking man who sat all alone
his coat zipped up to his nose
his hat pulled down, almost covering his face
and to my surprise he arose

He walked to me then and he looked in my eyes
looking down, towering at least six foot five
as he stared down at me and I felt suddenly like
I somehow had known him all my life

I worked up the nerve to speak to him then
us standing there, in the pale orange light
"Where am I?" I asked, seeking one thing
oh his eyes how they shone so bright!

"We're standing in a place that you once knew"
he said as snow danced in his eyes
and with a subtle small wink he said with a laugh
"It's a bit bare, it always is over time"

"But I don't understand" I said with a plea
this all doesn't make any sense
In my heart I feel I've known you and this place
yet my mind knows this is all just pretend

He looked at me then and with a grin on his face
he bent down and scooped up some snow
and he stood for a moment before he worked up a laugh
and threw it at me with a hearty Ho Ho Ho

As I stood there shocked my mouth quite ajar
he laughed till there was tears in his eyes
He said " Wasn't that real enough for you
or should I bake you a nice icy pie?"

As I stood there a moment I thought to myself
Then I grinned and grabbed up some more
and as ran around there with snow slowly melting on my face
I had a snow fight with this Seasonal Whore

Something happened as I threw snow as hard as I could
as I had almost gotten the poor guy whipped
In his effort to kill me with mountains of snow
His black charcoal coat had become unzipped

The inside it seemed was so beautifully red
I had stopped for a moment to stare
It was made of some sort of red velvet cloth
made more beautiful, by the streetlights soft air

and he looked at me then, with his eyes shining bright
a thousand fireplaces couldn't have been more intense!
and in his smile and the streetlights embrace
how I got such a calm and warm feel of sense

I knew now where I was, I had known all along
I had found that place from long ago
when the world was still bright, and it seemed to make sense
and you'd feel warmth as the cold wind would blow

He acknowledged this fact, and he zipped up his coat
and I could tell he was going to leave
but as he turned to go, and he started to walk
I asked him to stop just once more

"What if I lose my way back here?" I asked
My mouth almost trembling with fear
and he never replied he just gave me a smile
and I knew that he'd always be near

and like that he was gone, I was alone in the night
with nothing but the streetlight and snow
but I knew in my heart there was more here than I thought
I walked home with my heart literally aglow





and the days turned to weeks, and the weeks into months
and the rest of the year faded away
until the next year when I returned once again
to this lonely, and desolate place

Oh how it had changed since that lonely Christmas eve
when I had stumbled blindly upon that place
In the spot of a street lamp a Christmas tree stood
It's composure of pure beauty and grace

and on the old bench a familiar face sat
his coat no longer the color of night
but rather it shone a beautiful red,
that I swear almost glowed it's own light

He sat there, chuckling lightly his face bathed in green
and purple, and yellow, and red
The christmas trees light giving him that look
that he knew I should really be in fucking bed.
(It's bloody ass 2 am)


Well Happy holidays (albeit early)

Thats just a rough copy as I hope you guys noticed (I called santa a seasonal Whore hah)

Give me tips or something.. second poem I've ever written, and I will come back on a later date and improve it.

Edit: my 2 AM self thought that sounded better than it did. It's totally still badass though
_________________
~I'm me.